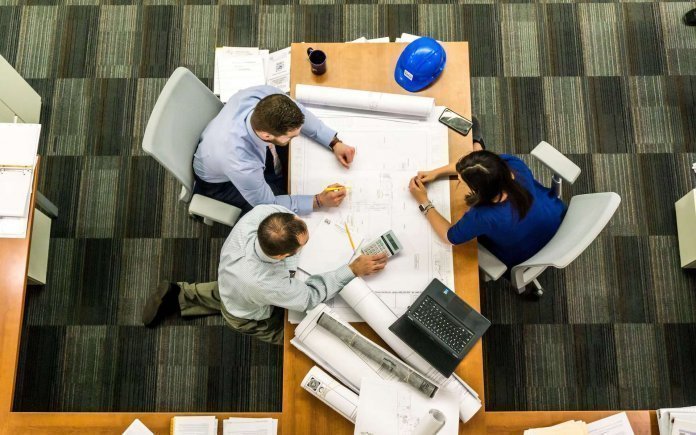 Here are the top Interview Questions & Answers for Building Architect Job
What is the role of a Building Architect in the industry?
Building Architect job interview Tip number one.
In most cases, one of the first questions — and an integral one that HR may ask is the role of a Building Architect in this industry. The HR is interested not only to see your vast or intensive knowledge in the sector but also evaluate your perception of the industry. Your answer should hit the nail on the head. It should be an overview of what you think about this role.
A Building Architect would help in changing the landscape of the designated area, and so they must find the right candidate.
Sample answer for this question for Building Architect job interview
As a Building Architect, it is my responsibility to utilize my knowledge of the concepts, principles, theories, and practices used in the industry. I should focus on buildings and structures, the job's responsibilities and respond to the challenges posed by the growing population, land-use pressures, rapidly evolving technology, and increasing government regulations.
As an architect, planning, design, construction, and maintenance of buildings or other structures are my primary responsibilities. I also feel that it is vital to design a particular structure/building keeping in mind the aesthetical and functional aspects.
I have a bachelors and masters in architecture. Having these degrees have helped me grasp the technicalities of the role and the ability to use intuition as required.
What IT skills must a Building Architect have according to your understanding?
Building Architect job interview Tip number two
Through this question in the Building Architect interview, the interviewer wants to see if you can visualize and use IT tools to increase your productivity. They want to know if you can research various IT tools and software that can help Building Architects do their work more efficiently if they are proficient in necessary IT skills.
Sample answer for this question for Building Architect job interview
Considering the involvement of technology in all facets of our life, I feel any job today requires a good knowledge of IT skills. And, being trained and familiar with computer-aided drafting systems, building modeling, and other relevant technologies are pivotal here. These include being familiar with essential office software, such as word processing, spreadsheets, and accounting.
Knowing both spreadsheets and accounting helps in the budgeting aspect and enables me to keeps a tab on what's going on.
There are a few aspects to consider, like technical training in project management can help you be prepared for nuanced circumstances. Be it familiarity with the construction industry tools or being well-versed with norms and regulations of the local council or municipality. In reference to this interview question for Building Architect, I feel these IT skills would give me an in-depth insight into ways of ensuring the project is carried out with precision.
What according to you should be the Key Result Areas of a Building Architect?
Building Architect job interview Tip number 3
Through this question in the Building Architect job interview, the prospective employer wants to test and see how much clarity you have about the KPI's for the Building Architect job. This will give them an overview of the level of accountability and transparency about what the Building Architect role entails. It should be kept in mind that any Building Architect is a mentor and leader, along with being a manager. So you should be ready to speak about being prepared to take on additional responsibilities. Being a team player and someone who doesn't mind an occasional, extra load will help you in cracking the job interview for a Building Architect.
Sample answer for this question for Building Architect job interview
This interview question for Building Architect about the KRAs is quite extensive, so let me give you a gist of what I feel are critical points. These include technical knowledge, design planning, researching, etc.
Why does technical knowledge matter?
For this interview question for Building Architect, I would say that technical knowledge forms the basis of this role. Without technical knowledge, simple things would get complicated. My professional degree in architecture gives an added edge to identify the favorable environmental, social-behavioral, or aesthetic outcomes of design.
How would you go about design planning?
Design planning is the core of this role, and for this Building Architect interview, I would state that it is all about developing creative and original planning solutions to satisfy the need/demand of the city/area. Design planning is the way to put forward a thought or idea and give it a realistic shape. Design planning is all about engaging your imagination, thinking creatively, innovating, and providing design leadership. This should include researching and developing plans and programs for the use of land and physical facilities in the city/ zone.
I also believe that having an awareness of contemporary issues relevant to the practice of architecture. And how they may be integrated into the design is an essential aspect of this Building Architect job role. I must ensure that my design complies with the scope of work and contract requirements.
Collaborating with and leading other specialists in the field as required and developing conceptual soft and hard designs are some of the other KRAs associated with design planning.
Adding to this, using the conceptual design to prepare final drawings and technical specifications are crucial.About design compliance or the ability to ensure the design complies with the scope of work and contract requirements. I feel that compliance cannot work at individual levels and requires the involvement of the team as a whole with a clear communication plan.
Express your views on regulations
For this Building Architect interview question, I would say that to identify, understand, and incorporate applicable legislation, regulations, directives, codes, and standards form the basis of this role. Inability to adhere to norms and regulations can lead to disastrous results.
As a Building Architect, I should know laws, legal codes, court procedures, precedents, government regulations, executive orders, agency rules.
With changes being introduced frequently in this domain, one has to understand and grasp the differences rapidly.
As a Building Architect, part of my responsibilities includes inspection, evaluation, and reporting for regulatory compliance. With this, I should also review environmental regulations and determine or seek assistance with applicability determinations.
Summing up this Building Architect interview question, I would say that one has to have an understanding of local, state, and federal government programs and processes.
As a Building Architect, how do you handle Project Management
About this building architect interview answer, I should consult with clients and make recommendations regarding methods of work and sequence of activities. Unless I have a grasp over what the team is doing, through reports, I cannot manage them. It is through these that I can determine, develop, and contribute to the management. Both reports and correspondence are key role responsibilities here.
For a Building Architect, monitoring the work in terms of quality, progress, and costs as closely as is must do. On should try to determine, develop, and contribute to the management of reports and correspondence, so that everyone is on the same page.
I should manage consultants such as engineers, architects, and planners and lead and coordinate the activities of planning/ design projects. I should also provide regular reports and presentations on progress to the internal stakeholders as necessary.
The building architect interview question explores the analysis and your deep-seated understanding of the environmental, the social and cultural context of a project. And how you respond to them in a design solution, finding the appropriate balance.
What is the role of construction details and drawings?
For this Building Architect interview answer, I feel it is vital to understand the design techniques, tools, and principles involved in the production of precision technical plans, blueprints, drawings, and models.
I should develop conceptual designs from which detailed design drawings and technical specifications are prepared.
Drawing rough and detailed scale plans for foundations, buildings, and structures based on preliminary concepts, sketches, engineering calculations, specification sheets, and other data are imperative.
I should also have the ability to recognize the elements and symbols of blueprints, drawings, and specifications.
Beyond this, interpreting dimensions, symbols, types of lines, views, and scales have equally important roles. Applying surveying methods to problems of leveLling, line direction, measurement of angles, measurement of distance, and transverse computations would also help in the same.
What about project management/execution?
The first step of project/manage execution is engaging with all professionals employed in the creation of the built environment. Writing clear reports and presenting options and recommendations is the start of a Building Architects job. I should create an environment where information is shared, and design specs are followed.
The ability to foresee and articulate design issues before they occur is one of the most critical skills that a building Architect must-have, this enables smoother execution.
Contract Management can be tricky — what's your perspective on it?
Contract management is one of the most critical tasks in a project, inability or missing out to raise the alarm early on, not responding to new claims can lead to cost overrun in the project.
It is essential to handle stressful situations effectively (e.g., delivery/completion date negotiations). Responding to vendor inquiries and resolving vendor complaints and ensuring that appropriate actions are taken to assist the construction team are primary responsibilities associated with this task.
And building/ drafting the contract?
Preparing contracts and negotiating revisions, changes, and additions to contractual agreements with architects, consultants, clients, suppliers, and subcontractors require attention to detail.
Here, I should implement my core competencies and technical knowledge of an architect, combined with intuition. Using help from the accounts department, I should consider and prepare cost and expenditure statements and other necessary documentation at regular intervals for the duration of the project.
Summing up this Interview question for Building Architect, setting up cost monitoring and reporting systems and procedures and keeping track of documents including sales slips, paid bills, invoices is an essential part of this role.
Elaborate on how you plan to use your knowledge of local laws
Local laws can be complicated, and hence, I should be aware of and comply with governmental regulations, local and state building codes, contract provisions, and construction standards.
As a building architect, I should use the information given in regulations and codes correctly. I would also add that passing job inspections and complying with regulations at all times and locating/ obtaining all necessary permits and licenses is a pivotal consideration.
To inspect and review projects to monitor compliance with building and safety codes and other regulations comes next. I should make sure that I use the information given in regulations and codes correctly.
Understanding of the land use regulations along with the local, state, and federal government programs and processes is another critical aspect of the role.
The answer to this Building Architect interview should also include an understanding of the interaction among the economy, transportation, health and human services, and land-use regulation.
The Building Architect also has a responsibility towards nature and sustainability. How about the Environmental Impact of all this?
Recognizing and decreasing all types of environmental hazards is imperative for this role. I have to identify and minimize all kinds of environmental hazards.
The task should also include removing, packaging, disposing of, and documenting hazardous materials, advising corporations and government agencies of procedures to follow in cleaning up contaminated sites to protect people and the environment, along with guiding industries and government agencies about environmental policies and standards.
This Building Architect interview question should also include the aspects of operating, maintaining, and interpreting data from air sampling equipment. Next comes the setting up and maintaining of decontamination systems.
About the environmental impact, we should also remove, package, dispose of, and document hazardous materials. Taking steps to prevent/control wind or water erosion in land development and construction and getting the relevant permits when it will impact wetlands. And take steps to minimize the negative impact should be implemented on a priority basis.
And Green Building Practices?
Recognizing and researching green building trends in the construction industry, including the use of new materials, technologies, and processes is the first part of my answer to this Building Architect interview question.
Any architect knows and understands the nature of climate change as it has an impact on planning policy and decisions. Hence, this is a governing factor that forms the basis of any designs that I create. I should prepare for climate change mitigation and adaptation based on understanding the biodiversity planning and ecological networks and implementing measures to conserve and enhance the natural environment.
I should meet requirements to verify that a building project meets the highest green building and performance measures. I should also understand carbon neutral and reduction technologies/low carbon futures and follow waste management plans as per contract requirements.
These little steps can help minimize construction waste and demolition debris.
I do believe in reusing or recycling materials, e.g., concrete, masonry scrap, metals, clean wood, plastics, insulation material, un-tempered glass, carpet and carpet pad, ceiling tiles, plumbing fixtures and equipment, lighting fixtures, electrical components, and cardboard packaging.
Sustainability is the key to a green future because it takes into consideration practicality and being in sync with our environment — something that everyone seeks today. For this, I have to understand the role and place of planning in delivering sustainable development.
How would you go about estimation?
As a Building Architect, I have to understand and analyze blueprints and other documentation to prepare time, cost, materials, and labor estimates.
I should also assess the cost-effectiveness of products, projects, or services, tracking actual costs relative to bids as the project develops. I should arrange for sustainable solutions along with financing and mechanisms for the provision of utilities.
I would add to this Building Architect interview that consulting with clients, vendors, personnel in other departments or construction supervisors to discuss and formulate estimates and resolve issues can help manage the financial and cost aspect. Estimations in terms of costs, budgets, deliveries, etc. should happen at a team level.
Conferring with engineers, architects, owners, contractors, and subcontractors on changes and adjustments to cost estimates can help in balancing costs. It also means that no team has to work under immense pressure or be unhappy about the quality they have to put up with. For me, the rule of estimation is that there should be no compromise on the quality.
Looking for more HR interview questions and answers
Click here to Read 200 Plus HR Interview Questions & Answers For Top Multi National Companies
Jappreet Sethi